We set standards for
people and nature.
As one of the pioneers in the sustainable clothes hanger sector, we have been campaigning for the use of regional biomaterials for over a decade. In close cooperation with our customers, our ongoing efforts are bearing visible fruits. In the last four years alone, we have almost tripled the share of biomaterials in our production.
But we're not just resting on our laurels — on the contrary, we continue to work intensively on expanding our use of biomaterials, so that sustainable resources will be the dominant raw materials in our production very soon.
Share of biomaterials in production
We do everything for the environment
The share of biomaterials has increased more than fivefold in the last five years.
Regional production in Germany results in short transport routes and therefore a great deal of CO2 savings (no lengthy air and sea freight routes).
The high level of automation in our production ensures resource-efficient manufacturing.
Re-using: We exploit the full potential of our quality clothes hangers and sort them after every use for their next deployment. A clothes hanger should remain in the system for as long as possible until it is finally recycled.
Recycling: First we crush the sorted clothes hangers and use the plastic or biomaterials we can extract to produce new clothes hangers. As such, we turn the crushed material into granules, which are molded into hangers in the injection molding process.
The circle completes itself
at our company site.
The issue of recycling is also becoming increasingly important in our industry. Mountains of clothes are growing and even today clothes hangers are often disposed of without any recycling, despite being a valuable resource. We have been responding to this for quite some time.
Our main aim is to keep clothes hangers in circulation as long as possible – the longer they are in use, the better the environmental balance is. Which is why we first insist on re-using, sorting and using already used hangers further. If the clothes hanger can no longer be used after several cycles, we then go to recycling.
This is where the clothes hangers are presorted manually based on their materials. These material sections are then fed via a conveyor belt into a crusher, which breaks the hangers into pieces. At the same time, a magnetic roller picks out and extracts the metal hooks specifically. The plastic or biomaterial fragments run through another mill and are ground into small flakes. In order to homogenize these colorful flakes and make them subject to further processing, the material is loaded into our extrusion systems.
Essentially, extrusion means the material is melted down and the resulting compound is squeezed through a sieve. This results in a defined, homogeneous granulate that can be colored as desired. These granules are then put through the injection molding process. The cycle completes itself when the old becomes new.
We have identified the signs of the times and use recycled materials almost exclusively in our production – even with other plastic and biomaterial products.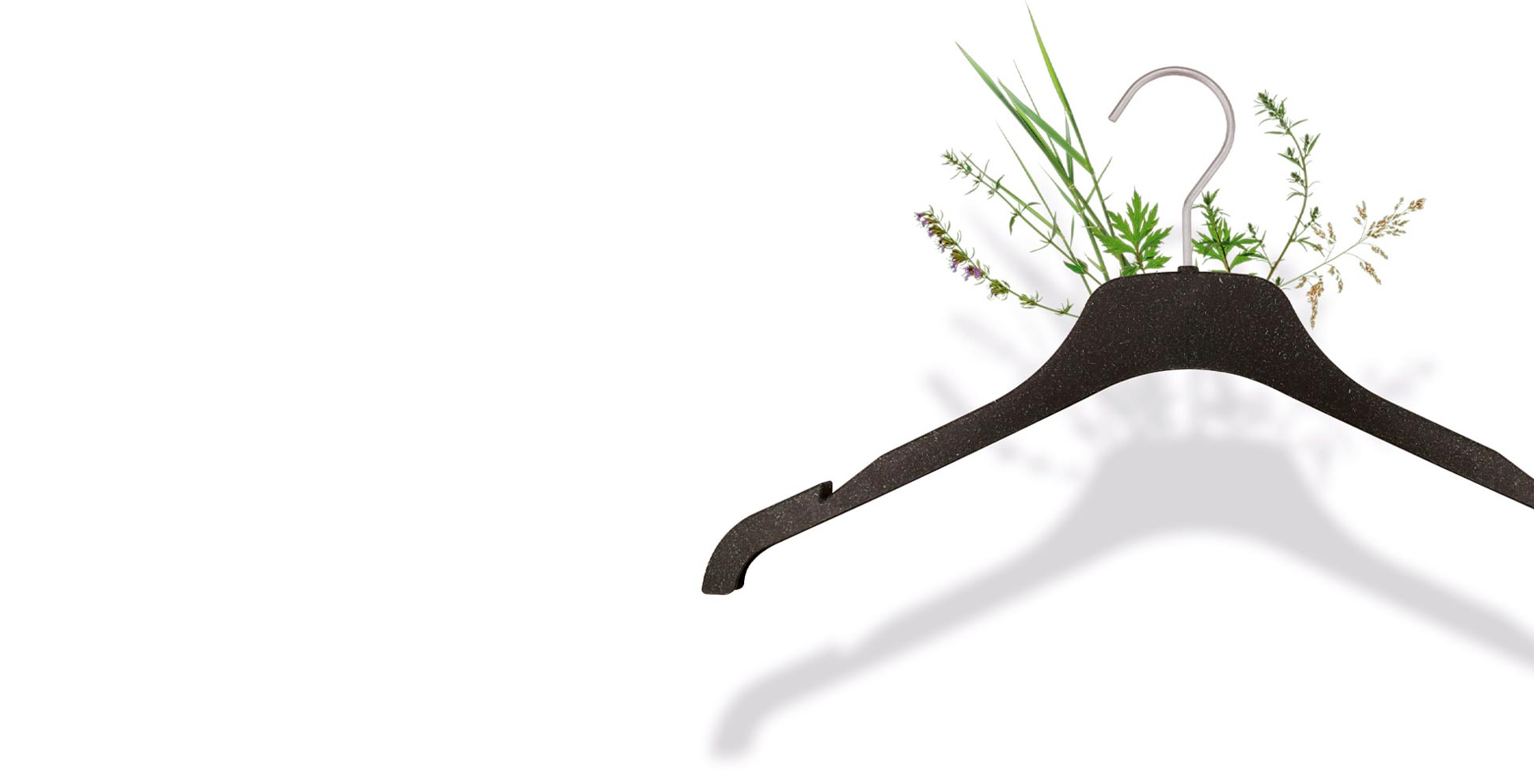 The most
sustainable hangers
grow in our region.
In our search for raw materials that reduce the carbon footprint of our clothes hangers, we found just the right thing right on our doorstep. Because there is plenty of meadow grass in our region. The surplus of meadow grass is normally used to extract energy from biogas, and often the cellulose fibers it contains, which make up around 40% of the blade of grass. However, cellulose fibers are also a valuable substance with very good material properties. And this natural fiber power pack is the starting point for our grass clothes hangers that are groundbreaking on the market.
Together with our neighbor – the globally unique grass factory – we have developed a biomaterial that combines the grass fibers with recycled or biodegradable plastics and is perfectly suited to the production of clothes hangers. The material AgriPlast has been tested and meets the strict requirements of toy standard EN 71-3 of the EU. AgriPlast is significantly more heat-resistant than PLA made from corn starch and considerably cheaper than cellulose acetate made from wood waste. This distinguishes grass material from many other biomaterials based on wood (often lignin), the processing of which may cause the release of harmful substances such as phenols or dioxins. We also take a critical view of logging and harvest cycles.
This mix of decisive advantages and especially the positive environmental balance make the new Corteco coat hanger series so appealing that various internationally well-known brands now present their collections only on our grass clothes hangers, made in Odenwald. Our grass clothes hangers seem to be turning into a real evergreen.
Certificates:
EN 71-3 of the EU
IfaS : 64 % less CO2
Wooden clothes
hangers – unique design
with personality.
Each one of our wooden clothes hangers has its own character and embodies a modern and classy look at the same time. The fine wood grains make each hanger a truly unique item. We use high-quality and selected woods as well as water-based varnishes that protect the environment. What our customers favor especially are hangers made of beech, ash and oak. We're also happy to offer other types of wood and of course we produce from FSC® certified wood on request.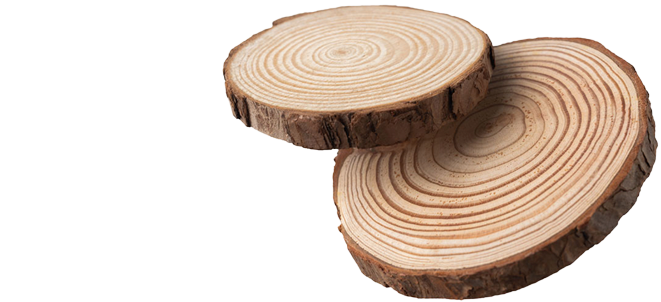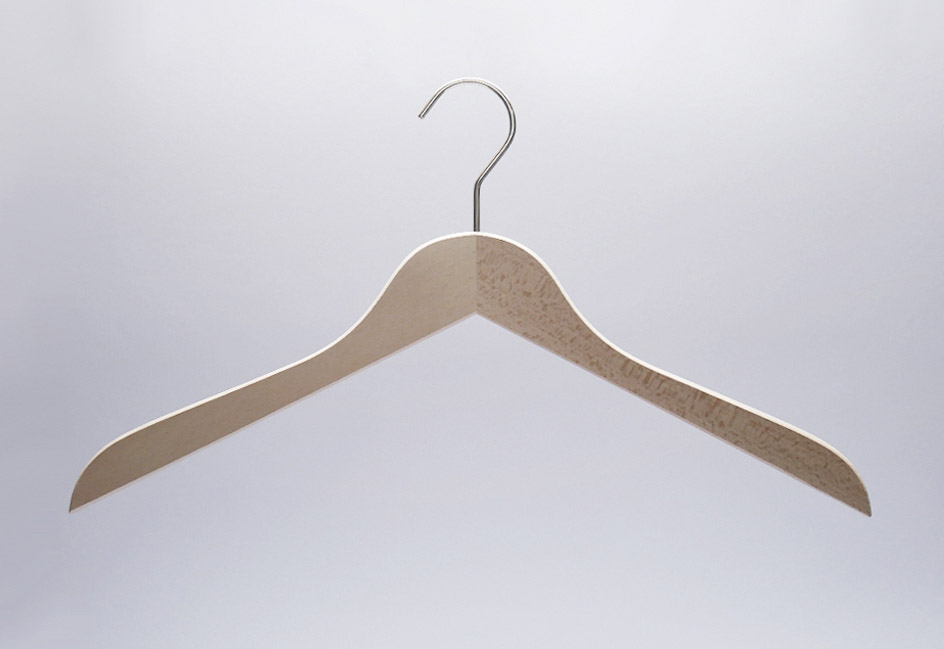 What shape, color and surface?
The choice is all yours…
You have the option at any time to give your wooden clothes hangers a very personal touch with a variety of surfaces – from waxed to natural varnish or a velvety Soft-Touch surface. You alone decide which finish will fit most tastefully in the ambience of your in-store concept. But the focus is not just on the look of our wooden clothes hangers but also their durability. Because every additional year of service that a hanger accumulates protects our environment. For this reason, product quality is of crucial importance for us. And ultimately, it saves not only resources but also reduces your investment.
Of course, made to measure wooden clothes hangers are also a challenge we welcome. Together with you, we develop and produce genuine unique pieces that bear your signature and underline the style of your brand.
What does FSC actually mean? You can find out here.